(Photos from Broadway World and Playbill)
My boyfriend and I watched Atlantis Production's The Little Mermaid musical last night at the Meralco Theater. When I heard that this Broadway production was going to be staged in Manila, I got really excited because The Little Mermaid was one of my favorite Disney animated films and I was really curious on how they are going to recreate the magical undersea world onstage. And hey, it didn't disappoint! When I entered the theater, I knew why everyone was raving about it; the set was really beautiful, and it hasn't even started yet! I also liked how there was this storybook narrative flashed at the stage, it really brought back good memories. And when I heard the overture, I had this silly little girl-ish smile because in that instant, I felt like I was being magically transported to their world. I have nothing but good words for the orchestra. Good job!
Well, I have nothing but good words for the cast too! Rachelle Ann Go is simply the perfect Ariel. She had this spunky but innocent side to her, and she made everyone smile too! She is really, really good! And is it just me, or is her theater voice different from her usual pop singing voice? Nevertheless, I loved it! Her notes were crystal clear. Her acting is very, very convincing. She was just perfect. Erik Santos, on the other hand, was indeed very princely in his portrayal of Prince Eric. I have always loved his voice, and he's a really good actor too! He's got potential. Now I want to see these two back on stage together! Maybe in another production?
As for Ariel's friends, I really, really loved Lee Villoria as Flounder! The same goes for Enrique Canoy as Scuttle. Positoovity! OJ Mariano as Sebastian was really good, too. He's the source of laughter for the whole play. I loved it! His Under The Sea number was marvelous.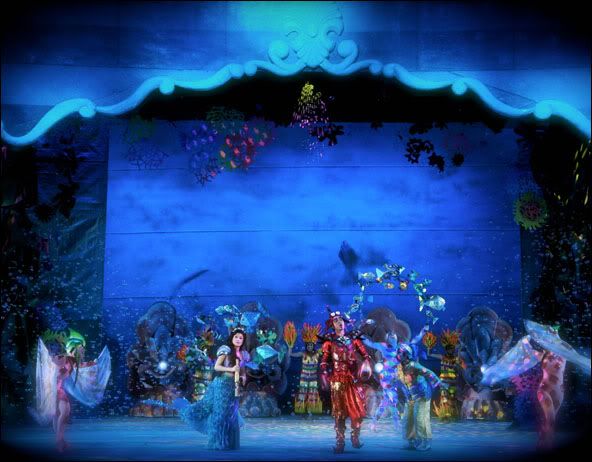 Oh, of course, who would forget King Triton and Ursula? What I like about this play is that there's an explanation here on why Ursula hated King Triton so much. Calvin Millado really fit the role of King Triton. He was commanding and regal, but had a fatherly gentleness too. I cried in the part towards the end where Ariel and King Triton reconciled. It was that good. And Ursula? My gosh, Jinky Llamanzares did not disappoint! I love how she portrayed Ursula; it was twisted, and she delivered her lines perfectly, with that matching theatricality that the Ursula in the animated film loved doing. Her singing was excellent, too. I think she was the most applauded character in the theater at that time!
And of course, the songs. We still have those familiar songs such as "Part Of Your World", "Under The Sea", and "Kiss The Girl" (which, by the way, is my favorite in this show because of its very creative atmosphere). I just couldn't help but sing along! There are also new songs but nothing to worry about, the new songs incorporated into the musical fit well with the classics. I actually liked "If Only", a quartet between Ariel, Prince Eric, King Triton, and Sebastian.
Overall, I can say that it was a splendid musical treat. It met my expectations, even exceeded them. If you have the chance, do watch it! The run will be until December 11.
I actually missed watching theater plays! I'll do this more often. Hmm, season 2012? Who's coming with me? 😀